BEAUTYOFMOKUHANGA:
Discipline & Sensibility
木版画の美:修練と感性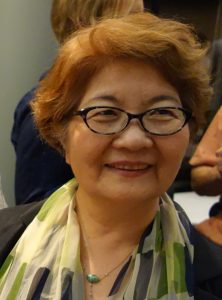 Two very special awards, named after KEIKO KADOTA, the founder of IMC, were announced at the reception:
2017 Keiko Kadota Award for the Advancement of Mokuhanga
Hidehiko Goto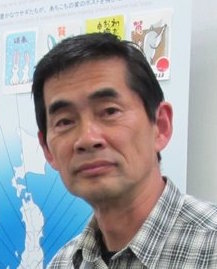 Born in Kokura, Fukukoka Prefecture in 1953, Goto studied printing and the baren under Kikuo Gosho, a printmaker, and Matashiro Uchikawa, an ukiyo-e printer. In 1979 he established the Baren Studio Kikuhide. He has been engaged in the planning and development of tools related to the baren as well as in providing direction on the baren for universities, museums and mokuhanga courses. In 2012 he started Baren-Juku, a baren class in Ginza. Goto is also an accomplished mokuhanga artist.
Keiko Kadota Print Awards
Michiko Hamada, SHK and Roslyn Kean, Time with Tradition 4
Additional Awards
#1 Lucy Schofield & Gillaume Brisson-Darveau for The Moon & The Sledgehammer, Awagami Paper Award:100 Sheets of Awagami Editioning Paper, $500 US value
#2 Kanako Watanabe for Asagakuru, Donkey Mill Art Center AIR Program Award: 2 weeks, value of $1,000+, under Hiroki Morinoue's guidance, plus $500 travel expenses and room and board at the Morinoue household
#3 Trish Yates for Wandering the Eucalypt Forest, Mi-Lab AIR Program Award: Cash value Japanese ¥100,000 toward the ¥280,000 participation fee for any MI-Lab AIR Program plus $500 travel expense
#4 Aleksander Wozniak for Fuji, Constellation Studios Award: One week residency, value of $500 plus $500 travel expense
#5, 6 & 7 Mara Cozzolino, Daryl Howard, and Yuuki Kashiwagi, Three Jurors' Awards: Michi Hamono's set of 7 carving tools for beginners, value approx. $50 plus 5 sheets each of Donkey Mill's Hawaiian kozo paper handmade by Tetsuya Takizawa, value approx. $12
Selection committee:
Charles Cohan


IMC2017 Local Committee Site Co-Chair, Prof. Univ. of Hawaii at Manoa, Honolulu, HI; Director, Arm and Roller Press, Honolulu, HI, USA

Claire Cuccio


IMC Board Chair, US

Duncan Dempster


IMC2017 Local Committee Site Co-Chair, Executive Director of Honolulu Printmakers, Lecturer at Univ. of Hawaii at Manoa, USA

Keiko Hara


Emeritus Professor of Art, WhitmanCollege in Walla Walla WA, Independent Artist, Japan/USA

Ralph Kiggell


IMC2017 Board Vice-Chair, Independent Artist, Educator, UK/Thailand

Karen Kunc


Former IMC Board Chair, Cather Prof. Art at Univ. of Nebraska, Lincoln, NE; Director & Owner of Constellation Studios, Lincoln, NE, USA

Michael Schneider, IMC Board Member, Austria/Japan
Katsutoshi Yuasa, IMC Board Member, Japan
Maholo to our FULL LIST OF SUPPORTERS AND SPONSORS for making this conference possible.