Oct. 3 – 8, 2017 at the Donkey Mill Art Center
Keiko Hara: Fluid & Free Mokuhanga Style, A Contemporary Approach
 液体感、流動性のあるフリースタイルを現代の木版画創作に応用
Through an expressive approach to the mokuhanga print process, using traditional and new techniques, participants will experience versatile creative image making processes by incorporating stencil and collage with woodblock printing. Participants will learn to see the endless possibilities for layering marks and colors to create a variety of mokuhanga prints.
Keiko Hara moved to US from Japan to pursue her career as an artist and earned an MFA at Cranbrook Academy of Art in 1976. In 1983 she was granted United States permanent resident status as an artist. Hara lives and works in Walla Walla, Washington, where she is an Emeritus Professor of Art at Whitman College.
With over fifty solo exhibitions since 1976, Hara has also been included in numerous invitational group exhibitions throughout the United States, Europe and Japan. Museums that include Hara's work in their permanent collections are The National Gallery of Art, The Art Institute of Chicago, The Detroit Institute of Arts, Portland Art Museum, Library of Congress, Jundt Art Museum, and many others.
Hara has been awarded grants from the Pollock-Krasner Foundation, the Artist Trust Fellowship, the Philadelphia Print Award and the first prize in the Michigan Print & Drawing Exhibition.
April Vollmer: Flouting Kento Registration for Special Effects
"見当"を効果的に使った現代の木版画創作に挑戦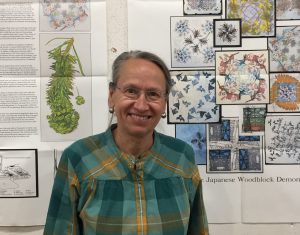 This portion of the workshop will show participants various ways to print already-cut blocks to achieve a variety of different prints. This approach includes printing different colors, printing textures like gomazuri, using bokashi gradation printing to change the spatial feeling of a print, printing with stronger and weaker pressure, and printing blocks multiple times on the same paper using a floating kento registration jig. The subtlety of mokuhanga printing allows a wide range of expression to be achieved simply by printing blocks in different ways or by layering and rotating blocks, printing them multiple times to create a complex, evocative print.
APRIL VOLLMER is a New York based artist and printmaker who specializes in mokuhanga, Japanese woodcut. With an MFA from Hunter College, she has exhibited her work internationally and has taught workshops across the U.S. Awards include fellowships at the MacDowell Colony, the Virginia Center for the Creative Arts, and the Nagasawa Art Park program in Japan. Her work has been published in journals including Science, Contemporary Impressions and Art in Print. She was on the board of the First and Second International Mokuhanga Conferences in Japan and her book Japanese Woodblock Print Workshop was released by Watson-Guptill in 2015.
Hidehiko Goto: Focus on the Hand-crafted Baren & Printing
細工されたばれん、多種のばれんを使い分けして感性有る木版画創作に注目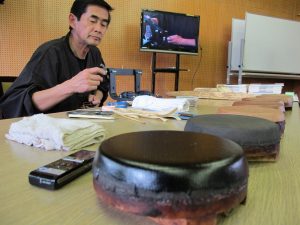 Introducing and focusing on beta-zuri, solid all-over printing; Goto will teach this technique to help participants understand the differences in the look, feel and the sensitivity of printing with different barens. Learning this printing process will help develop an artist's printing skill. It is not easy to master beta-zuri in printing large surface area, but this class will encourage the development of a sensitivity to printing with different barens.
On the second day Goto will demonstrate how to care for barens and how to re-cover the baren. In this session participants will have an opportunity to re-cover a baren, and to practice printing beta-zuri. Goto will demonstrate printing his own images with different barens to show the quality of printing with different barens.
Hidehiko Goto has exhibited widely across Japan, as well as Central Europe, winning important prizes for his inimitable prints. In 1989 he was named Most Promising New Artist in a major print exhibition held in Tokyo, also taking its Grand Prize. In addition to being a well-established mokuhanga artist, he is one of Japan's most famous master baren makers.
Hidehiko Goto lives in Oiso, the location of one of the 53 Stations of the Tokaido Road in the print series by Ando Hiroshige.
Goto takes daily walks to the mountain side to view Mt. Fuji and the long beach of Shonan, enjoying one of the most picturesque views of Mt. Fuji with the Hakone-Izu mountains in the near distance.
Collections: Los Angeles County Museum of Arts, USA, Suzuka City Museum of Graphic Art, Nagano, Japan