"Aloha" is a special Hawaiian greeting and "e komo mai" means welcome. Hello and welcome to the 2017 Third International Mokuhanga Conference.
Hawaii became the 50th state of the United States in 1959, but Japan and Hawaii's relation goes farther back, to the period between 1844 and 1925 when Hawaii was still a kingdom. At that time many Japanese arrived in Hawaii under the Kanyaku Imin (Simplified Immigration) treaty as immigrants. Understanding this background history should help explain why Hawaii may feel familiar to Japanese visitors.
By hosting this International Mokuhanga Conference in Hawaii where people from many countries coexist, we hope the conference will help build bridges between generations, cultures, and traditions; that it will provide an opportunity to deepen friendships across cultures.
The conference will take place on the island of O'ahu in Hawaii, the Aloha State. We hope that by visiting you will learn the deeper meaning of Aloha, a greeting that means goodbye as well as hello, and is also a wish of peace and compassion. We hope you will experience its weight and depth by being on the islands. We hope that you will take the "Spirit of Aloha" and many fine memories home with you.
By hosting the conference in Hawaii, we plan to raise awareness about mokuhanga among the participants with the theme "Beauty of Mokuhanga: Discipline & Sensibility." Through mokuhanga printmaking, we hope to build bridges that will sustain a revitalization of art and craft, and promote world peace through cross-cultural understanding within our global community.
We welcome all of you to participate in the conference where we will share meaningful and valuable experiences at the Third International Mokuhanga Conference, Hawaii.
Hiroki & Setsuko Morinoue
Hawaii Local Committee Chair & Vice Chair
---
日本語版
アロハ、ようこそ!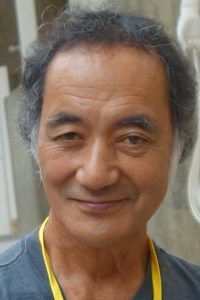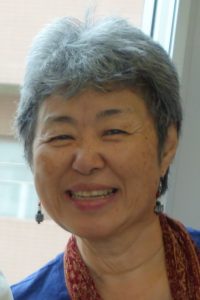 "アロハ"は特別なハワイの挨拶であり、"エ コモ マイ"は歓迎、ようこそと言う意を表します。 こんにちは、2017年第3回国際木版画会議ハワイへようこそ。
ハワイは1959年に米国50州目の州となりましたが、日本はハワイがまだ王朝であった時代の1844年より1925年の間 "簡約移民" の条約の下で数多くの日本人がハワイに移民した事はご承知の事と思います。ハワイが如何に日本人の方には親しみを感じさせるかはこの歴史的背景の中ではごく自然な理由かとも思います。
今回の国際木版画会議が様々な人種が共存するハワイで主催する事は、参加者の方々の友好を深める上で世代、文化、伝統の"橋渡し"になる良い機会を提供してくれるであろう事を願っています。
この会議はアロハの州と称するハワイ州のオアフ島で行われます。ご出席される事で、アロハが、単にさようなら!からこんにちは!に至る挨拶の言葉であることはもとより、より深い意味、平和、愛する事、思いやりの気持ち、願いがこもった言葉であることを学んでいただきたいと思います。アロハの言葉の重さと深さを身をもって体験され「アロハの精神」と多くの素晴らしい思い出をお持ち帰って頂けたら幸いです。
ハワイで開催する事に当たりましては、"木版画の美:修練と感性"をテーマに、アーティストはもとより関係者方々の間でテーマの意識を高める事で国際会議を盛り上げて行く所存です。木版画を通し文化の活性化、生活実質の向上、世界和平の橋渡しに成り得る事を願い、皆様には是非この有意義で貴重な体験をして頂きたくご参加下さる事を心待ちに致しております。
ヒロキ & セツコ モリノウエ
ハワイローカル実行委員会 会長/副会長