registration now closed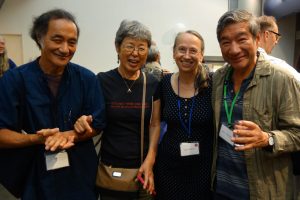 Satellite Program: 6-day Workshop & Hawaiian Experience
REGISTRATION IS NOW CLOSED: PROGRAM IS FULL
IMC 2017 Satellite Program Schedule
A six-day mokuhanga workshop with three invited artists from Tuesday, Oct. 3 through Sunday, Oct. 8, 2017 at the Donkey Mill Art Center in Holualoa on Hawaii's Big Island. The program also includes Hawaiian Experience workshops so that participants can take home a taste of the island culture as well as new inspirations in mokuhanga printmaking.
Satellite Program Registration
Participation is limited to 30 for this package of hands-on workshops.
Program Dates: October 3 to 8, 2017
Satellite Registration begins: October 1, 2016
Satellite Registration closes: June 30, 2017 (will close at 30 attendees)
Satellite Program Six-day Workshop
IMC2017 Attendee or DMAC member
All Others
Oct. 3 – 8, 2017
Includes: AM Mokuhanga Workshops and PM Hawaiian Experiences or open studio; visiting artists' presentations; Bridge-making with International Exchange & AIR programs
US$525
US$575
Material & Studio Fee (Additional charge not listed during registration)
US$80
US$80
Evening artists' presentations will be preceded by pot-luck dinners.
Satellite Program: Welcome & Aloha Luau Parties (Additional cost per attendee)
| Luau Parties | IMC2017 Attendee or DMAC member |
| --- | --- |
| Welcoming Party: Tues. Oct. 3, 2017 | US $35 |
| Hawaiian Aloha Party: Sun. Oct. 8, 2017 | US $45 |
Cancellation Policy
All IMC 2017 cancellations and requests for refunds must be made by e-mail to the IMC 2017 Local Committee. Telephone or postal mail requests will not be honored. All refunds will be processed after the conclusion of the conference. Refund transfer fees and charges will be borne by the applicant.
Refunds
For cancellations received on or before August 16, 2017: full refund.
For cancellations received between August 17 and Sept. 6, 2017 (inclusive): 50% refund.
There is no refund for cancellations received on or after Sept. 7, 2017.
After payment is received, we will send a confirmation email that your registration is complete.
To register for the satellite program, make sure you select the option when registering for IMC 2017 Hawaii.